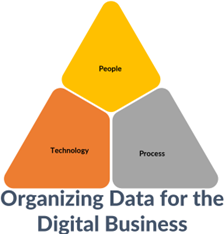 Organizing Data for the Digital Business
Data is most powerful when it flows seamlessly through both business capabilities and technologies and provides insights across the organization . One of the biggest challenges is learning how organizations support their existing structure.  How an organization organizes and structures their data, and any governance of their data, speaks to organizational culture as well as their approach to the information they wish to derive from the data.  Organizing the organization's business data stewards as domain data stewards is a part of the choice on approach.
In this recorded session will use fun and easy to understand references to explain the importance of data organization and how Columbia Sportswear has categorized its data into a set of foundational data domains that drive Data Stewardship, Enterprise Services, the Data Lake, and more. Debra Kaysen, Enterprise Data Strategies from Columbia Sports explains their approach and our listeners will hopefully walk away with additional insights.